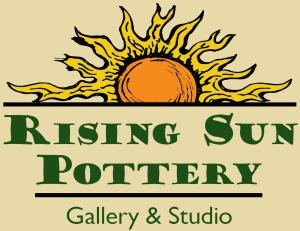 Rising Sun Pottery is located in historic downtown Lincolnton, North Carolina, a two-block walk from the Courthouse Square center of town. Stop in to visit our studio and our retail gallery of beautiful utilitarian pottery and other clay creations.  After your visit, walk up to Main Street and see what Lincolnton has to offer.

Conveniently located on Highway 321 halfway between Hickory (I-40) and Gastonia, NC (I-85), Rising Sun Pottery offers

adult instructional classes in wheel-turning,

studio rental space for the emerging or

experienced potter with no room at home,

retail/wholesale sales of clay, dry materials,

tools, equipment, kilns and equipment repair

service.

Browse our Web site, and if you have

questions not answered here, please call or

209 South Academy Street     Lincolnton, North Carolina 28092